Get in touch quickly and directly in the channels that you're already using.
Tap to Contact
For instant access, simply tap on the preferred communication channel and you'll be directed there with the contact information of the person you want to reach already included; no need to copy & paste or commit anything to memory.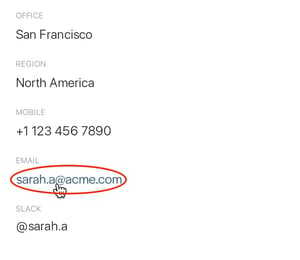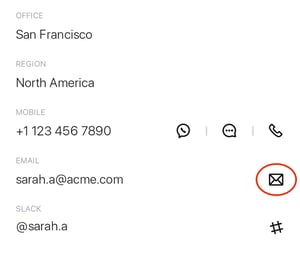 On web, tap the contact field. On mobile, tap the contact icon.
Depending on the applications you have installed on your mobile device (eg, FaceTime, Gmail, etc.), the tap-to-contact feature may give you the option to select your preferred application for that channel. If only one application is available (eg, WhatsApp, Slack), you'll be taken to that application immediately.
Tap-to-contact is currently enabled for the following channels:
Copy to Clipboard on Mobile
If you want to grab the contact information for an individual, you can copy this or any field directly to your clipboard on mobile. To do so, tap and hold on any field until you see a green banner at the bottom of your screen confirming that it's been copied to your clipboard.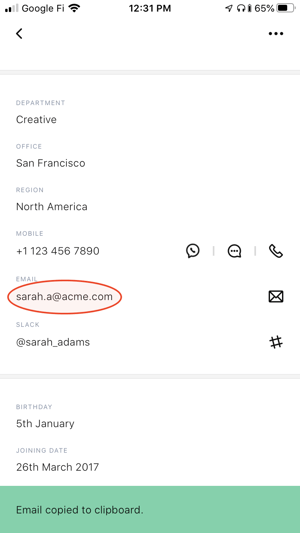 Now that you're skilled in the various ways to get in touch, see for yourself what it's like to communicate without barriers tripping you up. Give it a try!